January 2016: Vernon County Veterans Service Office (Jim Young and Tami Saleska)

What is the role of a veterans service officer? (taken from an article in a National Legion publication)

A veterans service officer (VSO) is an individual who advocates for veterans benefits. They should never take an action which they believe to have a negative impact on the veteran or family of the veteran. The VSO is also responsible for being proficient in the areas of customer service, technical knowledge of regulation and law as it pertains to VA matters, and proper disposition of claims and appeals. They too should be empathetic, understanding and helpful.

I commonly group misconduct by VSOs into two sections: illegal and unprofessional. It is very rare that a VSO willingly executes an illegal action so I will focus on some issues which may constitute unprofessional conduct. These actions can include not filing a claim in a timely manner, unprofessional conversation with a client, and willfully submitting fraudulent evidence or documentation.

It is very important when seeking a professional VSO that you take several factors into consideration. First, verify that the service officer is accredited by a veterans service organization, such as The American Legion. Second, if a VSO attempts to charge you money for services rendered, either covertly or overtly, they should be reported to the Department of Veterans Affairs. Third, you should make an appointment with the prospective representative to explain your case and get a feel for how well they do their job. If you are not satisfied, find another VSO that you feel comfortable with. The VSO is your lifeline to VA benefits, and you must ensure that they are providing everything you deserve.

It is important to The American Legion that all of our accredited VSOs are competent, capable and professional. As an American Legion department service officer (DSO), one of our duties is to assure wholesome and professional service to veterans who have honored us by allowing us to represent their interests with VA. If you experience what you believe to be substandard service, you should contact the DSO for your state and file a written complaint.

Please contact Jim Young or Tami Saleska with any VSO questions at 608-637-5323.

<Novermber 2015: Vernon County Veterans Service Office (Jim Young and Tami Saleska)

Flag Display Cases available at the Vernon County Veterans Service Office

Constructed of rich mahogany colored hardwood and inserted with thick glass each dis-play case holds up to a 5' x 9.6' cotton flag. A die-cast, gold-plated United States Armed Forces medallion is centered onbod a bevel-cut double-mat. Easy open back panel and felt lined, scratch resistant bottom. Available with or without a 5' x 9.6' embroidered cotton Interment flag which is identical to those manufactured for the Veterans Admini-stration. Manufactured in the U.S.A. Outside dimensions:

26" x 13" x 3.5". The cost is $30.00 for the regular ones and $40.00 for Military specific ones.

The La Crosse Stand Down will be a one day event on October 29th from 8am to 3pm, which will be held at the Logis-tics Health Incorporated (LHI), Cargill Room, Front Street South, La Crosse, WI. Free services for Veterans in need, hot lunch served, employment services, medical assistance, housing referrals, social services, VA benefits, haircuts, toilet-ries, flu shots, clothing, boots and shoes, sleeping bags, jackets, gloves, hats. Questions, call (800) 872-8662 ext.64201.

Please contact Jim Young or Tami Saleska with any VSO questions at 608-637-5323.

Vernon County Veterans Service Office (Jim Young and Tami Saleska)

Share the Warmth -

Sure, it seems strange to be talking about keeping warm with the weather we have had recently, but it is time to think about the cold weather and our veterans who may need some help keeping warm this year. We will be collecting donations of new and "Very Gently Used" Items for our veterans throughout the State of Wisconsin. The items we are looking for are as follows: Coats, Hooded Sweatshirts, Hats, Gloves, Warm Socks, Fleece Wear, Boots, Hand & Foot Warmers.

Appleton Harley Davidson & Wausau Harley Davidson have graciously allowed us to set up donation boxes at their locations for

NEW ITEMS ONLY. For those who wish to donate "Gently Used Items" that have been cleaned, you can contact the members listed below to make arrangements.

In the Southwest part of the state contact John Curran at jcurran516@aol.com

Please be sure these items are gently used, cleaned and ready to be given to our Veterans.

For anyone wishing to make a cash donation we will be happy to do the shopping for you. Please make checks payable to Patriot Guard Riders-WI and in the memo line write Share the Warmth.

Please send your donation to the following address. Patriot Guard Riders-Wisconsin, 148 Kings Court, Dodgeville, WI 53533.

Please contact Jim Young or Tami Saleska with any VSO questions at 608-637-5323.

Vernon County Veterans Service Office (Jim Young and Tami Saleska)

Heroes with Hearing Loss -

Designed to raise awareness and initiate meaningful dialog about shared hearing loss experiences among veterans, their families and friends – the Heroes with Hearing Loss program is a platform of engagement, providing insightful solutions and successful lifestyle-focused results.

These phones are free of charge for veterans with hearing loss, hearing aid compatible. Must have internet and phone line. Appli-cations are available at the office in Viroqua.

Please contact Jim Young or Tami Saleska with any VSO questions at 608-637-5323.

Vernon County Veterans Service Office (Jim Young and Tami Saleska) and other Military Information

Vernon County Veterans Service Office (Jim Young and Tami Saleska)

Dreams for Veterans

Your help sharing this program with veterans in need enables us to fulfill their final dreams. Dreams range from basic need items (like a working appliance or mobility scooter) to bedside reunions, final vacations with family, meetings with personal heroes or reconnecting with aspects of former military service.

Dream recipients are U.S. military veterans 18 years of age or older with a life expectancy of 12 months or less.

Dreams for Veterans collaborates with America's hospice professionals and veterans organizations in all 50 states to meet the unique needs of our nation's veterans.

Get involved. There are many ways to get involved including referring applicants, helping to make dreams come true, or donating time or resources to Dreams for Veterans. Dreams for Veterans is a program of Dream Foundation.

Refer a veteran and make a dream come true. www.dreamfoundation.org/veterans or 888-4DREAMS

Heroes With Hearing Loss

Designed to raise awareness and initiate meaningful dialog about shared hearing loss experiences among veterans, their families and friends – the Heroes With Hearing Loss program is a platform of engagement, providing insightful solutions and successful lifestyle-focused results.

For more information: call toll-free 800-974-1517, visit www.HeroesWithHearingLoss.org,

Email: info@HeroesWithHearingLoss.org

Please contact Jim Young or Tami Saleska with any VSO questions at 608-637-5323.

Vernon County Veterans Service Office (Jim Young and Tami Saleska)

May is Mental Health Awareness Month. To commemorate the month, the Department of Veterans Affairs (VA) is encouraging Veterans, along with their families and friends, to visit and view recovery journey stories on the website, MakeTheConnection.net.

Make the Connection is a national awareness program operated by VA aimed at reducing the negative perceptions and stigma associated with seeking mental health care. Through the Website, Veterans and their loved ones hear from hundreds of other Veterans who may be experiencing similar challenges, learn strategies for support and recovery, along with local resources available through a resource locator.

Please contact Jim Young or Tami Saleska with any VSO questions at 608-637-5323.

Vernon County Veterans Service Office (Jim Young and Tami Saleska)

On August 7, 2014, President Obama signed into law the Veterans Access, Choice, and Accountability Act of 2014 (Public Law 113-146) ("VACAA"). Technical revisions to the Choice Act were made on September 26, 2014, when the President signed into law the Department of Veterans Affairs Expiring Authorities Act of 2014 (Public Law 113-175).

In March 2015, VA announced the expected expansion for eligibility for the Veterans Choice Program by changing the calculation used to determine the distance between a Veteran's residence and the nearest VA medical facility from a straight line distance to driving distance.

Summary

One of the current eligibility criteria for the

Veterans Choice Program is based on the distance calculation using the straight line distance from a Veteran's home to the nearest VA medical facility. Under VA's plan for expansion, this criterion will change to the driving distance calculation between the Veteran's home and the nearest VA medical facility.

For example: Under the new distance calculation, a Veteran who lives less than 40 miles, straight line distance, from the nearest VA medical facility, but who needs to physically drive more than 40 miles to get there would be eligible for the Veterans Choice Program. Under the previous straight line distance calculation, this Veteran would not be eligible for the Program unless they were waiting for an appointment longer than 30-days from their preferred date or the date determined to be medically necessary by their physician.

VA is expanding the eligibility determination in order to increase Veterans access to high quality, timely healthcare. VA looks forward to continued collaboration with Veterans and our partners to ensure the success of the Veterans Choice Program.

Please contact Jim Young or Tami Saleska with any VSO questions at 608-637-5323.

Vernon County Veterans Service Office (Jim Young and Tami Saleska)

I would like to make you aware of the Wisconsin Veterans and Surviving Spouses Property Tax Credit. This program provides a refundable property tax credit for the primary residence (in state) and up to one acre of land via the state in-come tax form for eligible veterans as certified by the Wisconsin Department of Veterans Affairs. The credit is equal to the property taxes paid during the year on the veteran's or un-remarried surviving spouse's principal dwelling in Wiscon-sin.

If you meet the following qualifications you are eligible to apply for this benefit:

100% Disabled VA Veteran

You have remained un-remarried since your husband's/wife's death AND

your husband/wife was a resident of the state of Wisconsin for at least the five years prior to his/her death AND

you pay property taxes for a primary residence in Wisconsin.

If you qualify, I would like to encourage you to contact this office for more information and assistance in applying.

Please contact Jim Young or Tami Saleska with any VSO questions at 608-637-5323.

Pass along to fellow veterans

La Crosse Area Veterans Mentor Program - Heard in the news lately about a veteran that needs some help? The La Crosse Area Veterans Mentor Program (LAVMP) is there to help fellow veterans receive necessary services to enable them to reach their potential as productive members of their Wisconsin Hometown Community. Want to be a mentor to a fellow veteran in need? It doesn't take a lot of time, just desire! Interested? … Call the La Crosse Area Veterans Men-tor Program at (608) 785-6420, or visit its website at www.lavmp.org. Never Leaving a Fellow Veteran Behind.

Tomah V.A.M.C. - There is a real need for the following donations at the Tomah VA Medical Center and King Veter-ans Home. Gripper Socks, T-Shirts, Velcro Shoes, Sweat Pants and Sweat Shirts preferably size large, x-large, and xx-large, Craft Supplies, Construction Paper, Markers, Colored Pencils, Canvas Boards, and Non-Toxic Acrylic Paints.

Upcoming Dates at King Veteran Home: Sunday, March 29th - Vietnam Veterans Day; Sunday, May 11th - Open House from 10am-3pm; Sunday, June 31st - American Legion and Auxiliary King Day; June 8th through June 14th - Veteran Week at the American Legion Camp; May 20th - 9am-11:30am, Fishing Contest for patients at the Tomah VA Medical Center pier put on by the American Legion.

How to Report VA Healthcare to the IRS this Tax Season:

VA Healthcare enrollees, as well as spouses and surviving spouses enrolled in CHAMPVA, will be required to verify their healthcare coverage to the IRS this tax season. Questions are beginning to roll in to the CVSO office about how to report VA Healthcare and CHAMPVA coverage to the IRS in order to prevent a tax penalty under the Affordable Care Act (ACA), also known as Obama-Care. The official answer to the question above is: "Beginning in 2015, VA will send Veterans and eligible beneficiaries a letter and IRS form 1095B which will provide the details of the health care coverage provided by VA for the previous year. As required by law, VA also will notify the IRS." To find more answers on your VA/CHAMPVA Healthcare and the ACA, go to: http://www.va.gov/health/aca/FAQ.asp

Comfort Warriors gives 100% of donations back

The American Legion's Comfort Warriors gives 100% of donations to the hospitals and to individuals needing assis-tance from their wounds.

This is not to be confused with the Wounded Warrior Project. The following information is from a recent email (not sure everything is true, but it should entice you to investigate before making a donation).

"I recently pointed out in an article that I thought it was obscene that the executive director of Wounded Warriors is paid well over $300,000-a-year. I also wondered how the group could afford to advertise as extensively as it does on Fox News.

But, I recently received an email from Dr. Richard Stiso that exposed exactly how the charity spends the money it re-ceives from patriotic Americans. According to Guidestar, a group that investigates charities, the Wounded Warrior Pro-ject might as well be run by the Mafia. In 2012, the WWP received an astronomical $154,958,901, with a measly $4,857,084 going out in grants to veterans' organizations and $671,194 to individuals. That means that the group only used 3.5% of the money it received for the purpose intended.

In the meantime, the Officers, Directors and Trustees hauled in $15,415,666 million, with Employee Benefits ($2,226,457), Office Expenses ($12,451,303), Travel ($4,086,509), Promotional Items ($4,055, 567) and something called Outside Services ($20,915,404) accounting for roughly 50% of what's listed as "Overhead Expenses."

Pass along to fellow veterans:

Veteran Tickets Foundation, wanted to let you know about their great organization. They give out free event tickets to all kinds of things all across the country.

Stuff like football, baseball, soccer, basketball, concerts, zoo passes, plays and more!

You can sign up using the following link. http://www.VetTix.org/ref/252926 When you do, and verify your service you will get an additional 15 VetTix Lottery Coins to start off with!

The Vernon County Veteran Service Office is happy to announce that a Veteran Mentor Program has been established, and they are in the process of looking for volunteers to mentor other veterans in their time of need. All volunteers will have to attend a 3 hour class that will be given at the Vernon County Veteran Service Office at a later date. All volun-teers are preferred to have military experience. Please contact Tami Saleska at 608-637-5323 for more information or to volunteer.

Please contact Jim Young or Tami Saleska with any VSO questions at 608-637-5323.

Thanks for your support of Camp American Legion. 2015 is looking to be a great year. More information on Camp American Legion, and an application can be gotten off their website – wilegion.org/ click on Camp American Legion logo and go from there.

Please contact Jim Young or Tami Saleska with any VSO questions at 608-637-53

Please keep in mind when posting on social media:

Our friends at the FBI – Federal Bureau of Investigation issued a warning to current and former military members to review their social media accounts and avoid posts that might attract attention from the group calling itself the Islamic State (ISIS/ISIL) and its supporters.

The FBI and DHS notes that the Islamic State group already has publicly encouraged attacks against law enforcement and military Service members.

The bulletin includes a concern that ISIS members are "spotting and assessing" individuals in the U.S. who they believe may be interested in carrying out attacks on US soil against members of the U.S. military.

Please contact Jim Young or Tami Saleska with any VSO questions at 608-637-5323.

WASHINGTON – The Department of Veterans Affairs (VA) today announced that the "Road to Veterans Day" initiative, announced on September 8th by Secretary Robert A. McDonald, has resulted in significant progress for Veterans over the past 3 months. During that time, VA has taken deliberate actions to improve service delivery for Veterans, re-build trust, increase accountability and transparency and put the department on the path to long-term excellence and re-form. For access to the full "Road to Veterans Day" report, see: http://www.va.gov/…/publ…/RoadtoVeteransDay_ActionReview.pdf

Please contact Jim Young or Tami Saleska with any VSO questions at 608-637-5323.

Vernon County Youth Government Day - November 5th

Thanks to all of the members that showed up for the Vernon County Youth Government Day! American Legion members from throughout Vernon County recite the Pledge of Allegiance, Wednesday, Nov. 5, with students participating in the 50th annual Vernon County American Legion Youth Government Day. The day began with students observing proceedings in the circuit courtroom and ended with lunch at the Viroqua Legion Hall, which was followed by Judge Michael Rosborough, Sheriff John Spears and District Attorney Tim Gaskell talking about their duties. High school students from Viroqua, Westby, La Farge, Brookwood and Hillsboro participated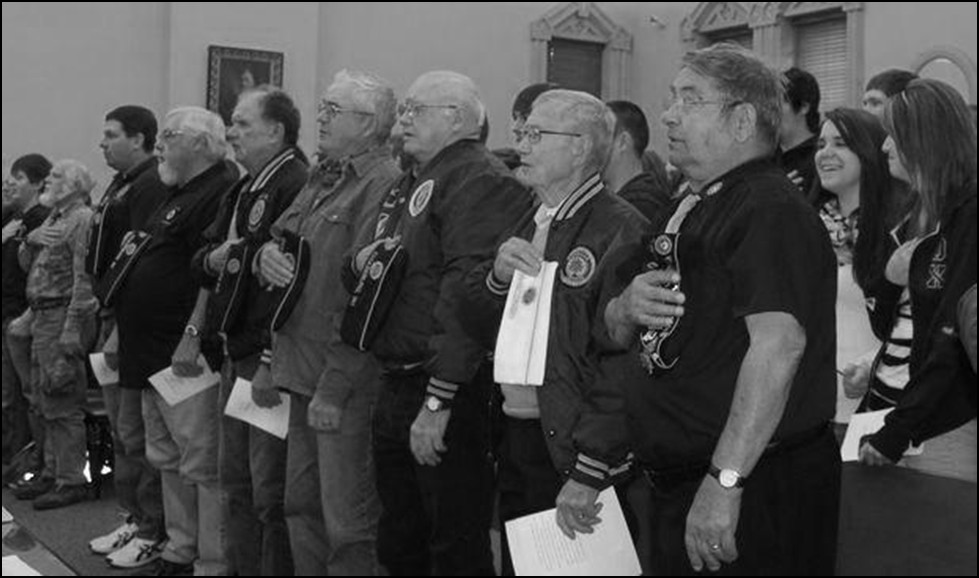 Veterans Day Chicken-q - November 9th
Thanks to everyone who came and made the Veterans Day Chicken-q such a great success! Preliminary figures showed we made roughly $1,200.00.
Commander Hess: A big thank you is in order to everyone who showed up at Coon Valley Elementary School, Westby High School and Norseland Nursing Home for Veterans Day. We had a lot of participation and the Honor Guard performed with precision!
We have Night At The Races coming up on November 20th at the VA in Tomah ..."
From the Adjutants Desk:
Thanks to the large contingent from Post 116 that showed up for the Annual Veterans Day activities at the schools! Front: Gary Hess, John Thurk, Charles Nelson, Wesley Guy
Middle: Stuart Peter-son, Don Kammel, Phil Humfeld, Francis Mathison, Larry Hass, Rolv Ihle
Back: Viki Lyn Burgemeister, Rod Ofte, Dan Hofslien, Roger Mathison, Gordy Hellwig
Sherman and Lois Olson attended the Veterans Day ceremony at UW-LaCrosse.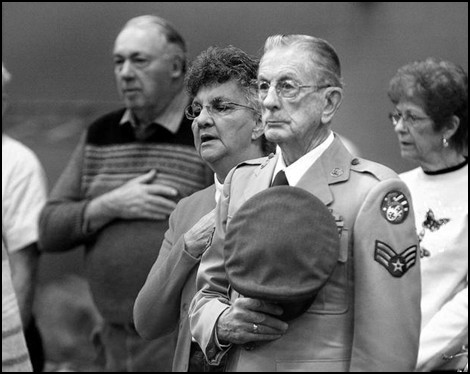 The VA Medical Center in Tomah will be hosting two drive through flu shot clinics in October. Veterans, VA volunteers and VA employees are invited to attend the event on Oct. 8 and 9 from 7 a.m. to 5 p.m. If you do attend the event, don't forget your VA identification card. You will be able to stay in your car but make sure you wear clothing that allows you to expose your upper arm. For more information about the Tomah VA drive through flu shot, call Cindy Clay at 608-372-3971, ext. 64454.
DNR salutes our veterans!
Resident Purple Heart recipients can purchase a Conservation Patron license at a reduced rate (Resident - $10, Nonresi-dent - $161). In addition, a non-resident Purple Heart recipient may receive hunting, fishing and trapping approvals at resident rates. They also
Veteran's Memorial Update and Information
The Coon Creek Area Veterans Memorial Committee is always looking for serviceperson's who may be eligible for inclusion on the Veterans Memorial. If you think you are eligible, or if you know of anyone who should be eligible, please fill out or have the person fill out the information below and return it to one of the members of the Coon Creek Area Veterans Memorial Com-mittee. John Thurk, Don Kammel, Melanie Role, Rod Ofte, or Charles Nelson.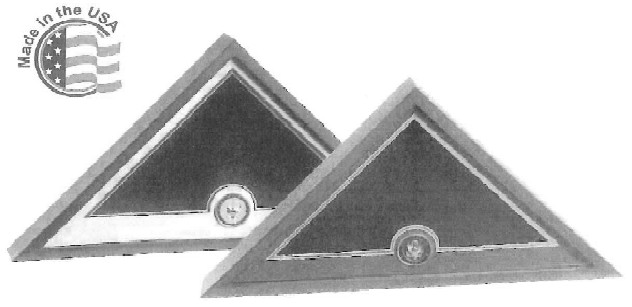 Flag Display Cases available at the Vernon County Veterans Service Office
Constructed of rich mahogany colored hardwood and inserted with thick glass each dis-play case holds up to a 5' x 9.6' cotton flag. A die-cast, gold-plated United States Armed Forces medallion is centered onbod a bevel-cut double-mat. Easy open back panel and felt lined, scratch resistant bottom. Available with or without a 5' x 9.6' em-broidered cotton Interment flag which is identical to those manufactured for the Veterans Administration. Manufactured in the U.S.A. Outside dimensions:
26" x 13" x 3.5". The cost is $30.00 for the regular ones and $40.00 for Military specific ones.
The La Crosse Stand Down will be a one day event which will be held at the Logistics Health Incorporated (LHI) 328 Front Street South, La Crosse, Wisconsin. We are hoping to have about 20-30 booths/tables for local community agencies. We will have a room with "give away" items for low in-come or homeless Veterans; this will include personal hygiene, clothing, shoes/boots, and jackets.
Please contact Jim Young or Tami Saleska with any VSO questions at 608-637-5323.
This is just a snippet concerning the DVA's release of names and addresses.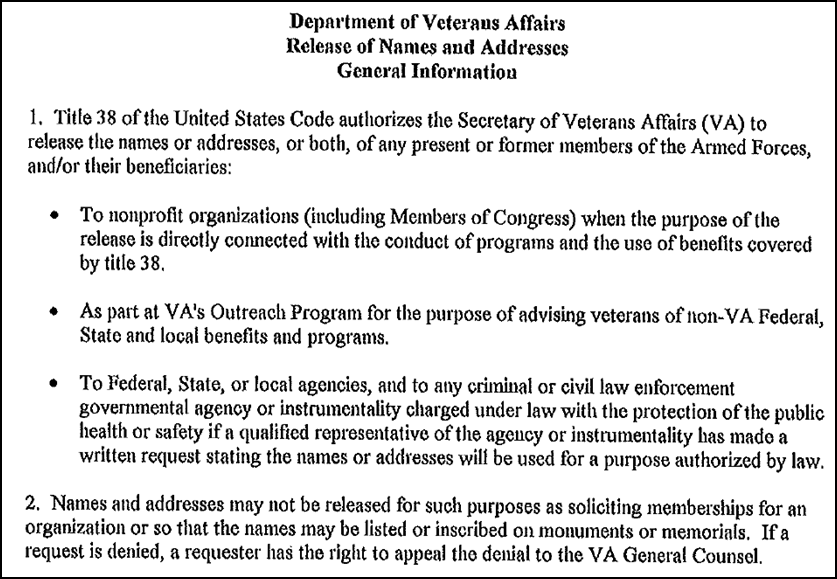 Vernon County Veterans Service Office (Jim Young and Tami Saleska)

Veterans Benefits Expo – 21 August 2014 – 11:00am to 6:00pm @ Logistics Health Inc., 328 Front St. South, La-Crosse, WI 54601.------Services and resource available for state, local and federal Benefits------Determine eligibility to apply for state, local and Federal benefits------Connect with Local employment Reps------Navigate Educational Opportu-nities------Submit Military Records requests and discharge review------Learn about Wisconsin Veterans Homes and Cemeteries------Engage with the Federal VA Regional Office.

There will be 3 workshops presented throughout the day by Wisconsin Procurement Institute on Veterans starting their own business.

Please contact Jim Young or Tami Saleska with any VSO questions at 608-637-5323.

Vernon County Veterans Service Office (Jim Young and Tami Saleska)

Veterans Benefits Expo – 21 August 2014 – 11:00am to 6:00pm @ Logistics Health Inc., 328 Front St. South, La-Crosse, WI 54601.------Services and resource available for state, local and federal Benefits------Determine eligibility to apply for state, local and Federal benefits------Connect with Local employment Reps------Navigate Educational Opportu-nities------Submit Military Records requests and discharge review------Learn about Wisconsin Veterans Homes and Cemeteries------Engage with the Federal VA Regional Office.

There will be 3 workshops presented throughout the day by Wisconsin Procurement Institute on Veterans starting their own business.

Any Purple Heart recipient from Wisconsin is eligible to purchase the State Patrons hunting license at a cost of $10.00.

Please contact Jim Young or Tami Saleska with any VSO questions at 608-637-5323.

The Vietnam Veterans Memorial Foundation project "Faces Never Forgotten" needs help obtaining missing photos of Vietnam veterans from Wisconsin. These photos will help complete an electronic "Wall of Faces" in the new education center at the Vietnam Memorial Wall.

Please check the wall's website for friends and loved ones, and help with the effort to supply faces, that they may be "Never Forgotten". Simply go to http://www.vvmf.org/Wall-of-Faces/ and search for a name. Submit digital photos, or send to your local newspaper for submission.

Please contact Jim Young or Tami Saleska with any VSO questions at 608-637-5323.

The Military/Veterans Family Day at the Milwaukee County Zoo will be held on Sunday, July 6, 2014. Ticket distribution will not begin until May 27, 2014.

The Vernon County Veterans Service Office has requested tickets.

Please contact Jim Young or Tami Saleska with any VSO questions at 608-637-5323.

VA Home Loan Seminar - Viroqua VSO

There will be a VA Home Loan Seminar at 6:00pm on Thursday, May 1 at the Vernon County Veterans

Affairs Office, 402 Courthouse Square, Suite 100, Viroqua, WI 54665.

Refreshments will be served. Please RSVP to Vernon County Veterans Affairs at 608-637-5323.

Vernon County Veterans Service Office (Jim Young and Tami Saleska)

Veterans and active-duty military not in uniform can now render the military-style hand salute during the playing of the national anthem, thanks to changes in federal law that took effect recently.

The new provision improves upon a little known change in federal law last year that authorized veterans to render the military-style hand salute during the raising, lowering or passing of the flag, but it did not address salutes during the na-tional anthem. Last year's provision also applied to members of the armed forces while not in uniform.

Traditionally, members of the nation's veterans service organizations have rendered the hand-salute during the national anthem and at events involving the national flag while wearing their organization's official head-gear.

The most recent change, authorizing hand-salutes during the national anthem by veterans and out-of-uniform military personnel, was sponsored by Sen. Jim Inhofe of Oklahoma, an Army veteran. It was included in the Defense Authoriza-tion Act of 2009, which President Bush signed on Oct. 14.

Please contact Jim Young or Tami Saleska with any VSO questions at 608-637-5323.

For each Sunday home game in 2014, the Brewers offer two FREE Terrace Level tickets to active and retired military personnel. The offer applies to all branches of the military service. Active and retired military personnel must present valid military identification which entitles them to two FREE Terrace Level tickets redeemable at windows 7-12 at Miller Park on the day of game only. This offer is based on ticket availability. Please contact the Brewer Ticket office directly at (414) 902-4000 for more information.

Show your military ID, VA ID or DD-214 no sooner than two hours before game time, at the ticket window under the clock tower (faces north, behind home plate).

Congratulations to Tami Saleska on being selected as the U.S. Air Force representative to the Fort McCoy Military Retiree Council. The Council represents military retirees residing in Wisconsin, Iowa, Minnesota, Michigan and Northern Illinois and serves as a link through the chain-of-command for issues concerning retiree benefits.

Please contact Jim Young or Tami Saleska with any VSO questions at 608-637-5323.

The address for the Veterans Service Office is 402 Courthouse Square, Banta Bldg. Suite 100, Viroqua, WI 54665. Office: (608) 637-5323 or (608) 637-5327. Fax: (608) 638-2327 Tami can also be reached via email at tami.saleska@vernoncounty.org

Vernon County Veterans Service Office (Jim Young and Tami Saleska)

USS Wisconsin (BB-64) to be celebrated at the Wisconsin Veterans Museum – 30 W. Mifflin St., Madison 53703 - on Thursday, April 24th at 7:00 P.M. The Museum is looking for those who served aboard the USS Wisconsin to attend and take part.

If you know of any crew members of the Wisconsin that served aboard her during WWII, Korea, Vietnam, or the Per-sian Gulf, please share this request with them and have them contact Kevin Hampton at (608) 261-5409 or Kevin.Hampton@dva.Wisconsin.gov

Please contact Jim Young or Tami Saleska with any VSO questions at 608-637-5323.

Cost-of-Living Adjustment (COLA) update

The American Legion's mission, in part, is to represent your interests on Capitol Hill. As a nonprofit organization, we do not have the luxury of being able to influence lawmakers with campaign support, or the promise of bringing grants, contracts, or jobs to their districts. The only power we have is the power of voter voice – nearly 3 million voter voices, and that's where you come in. As you may know, we are currently working on getting the one percent military retiree Cost-of-Living Adjustment (COLA) reduction provision of the recently passed budget repealed. This provision penalizes military retirees one per-cent of their COLA every year until they reach age 62. At that time, the provision adjusts their reduction to the full amount of their COLA, but doesn't replace the lost income. Aggregated, this loss of income can be between $70,000 and $120,000 over the lifetime of the retiree. What we believe is happening now is congressional leaders are taking a lot of heat over the COLA issue, especially because they neglected to parse out the medically retired veterans who were separated from the military due to life-long catastrophic injuries. In an attempt to appear as if they are addressing the whole issue, it looks as if Senate Majority Leader Harry Reid is planning on allowing an amendment to an upcoming bill that would address the COLA issue by only fixing it for medically retired veterans, leaving the rest of the retired veteran community, about 1 million retirees, to single handedly give the government back a portion of their retirement checks in order to help roll back the cost of se-questration. Most important to note is that this is the ONLY group being asked to give money out of their pockets that will never be returned.

Departments of Military Affairs and Veterans Affairs are partnering to distribute a special book to those veterans who served in that conflict.

"KOREA REBORN: A Grateful Nation Honors War Veterans for 60 Years of Growth". To commemorate the 60

th Anniversary of the Korean War, the Wisconsin Departments of Military Affairs and Veterans Affairs are partnering to distribute a special book to those veterans who served in that conflict. "Korea Reborn: A Grateful Nation Honors War Veterans for 60 Years of Growth" is available for free to Korean War Veterans or family members as a gift of gratitude from the Korean government. The hardbound, full-color, 175 page commemorative is provided to honor these great veterans and the families for their service and sacrifice. These books are available at the Vernon County Veterans Service Office. These will be given to Korean War veterans at this time only, on a first come first basis, we initially received 20 books and have some left, but are expecting another order sometime in January 2014.

Please contact Jim Young or Tami Saleska at 608-637-5323.

Starting Monday, December 2, you may visit your local Division of Motor Vehicles (DMV) service center to re-quest the Veteran Identifier be put on your Wisconsin Driver's License. If it is not your regular renewal time you will be charged the $14.00 duplicate license fee. If it is your regular renewal time you will be charged the standard renewal rate. You will need a copy of your DD 214 and a WDVA 2241, this form can be gotten online or at your local Veteran Service Office. If you have any questions please call Jim or Tami at 608-637-5323.

VA is implementing a comprehensive national VA Dental Insurance Program (VADIP) to give enrolled Veterans and CHAMPVA beneficiaries the opportunity to purchase dental insurance through Delta Dental and MetLife at a reduced cost. Participation is voluntary. Purchasing a dental plan does not affect Veterans' eligibility for VA dental services and treatment. VADIP opens November 15 for the purchasing of plans, with coverage beginning January 1, 2014. Covered services include diagnostic, preventative, surgical, emergency and endodontic/restorative treatment. Delta Dental and MetLife are offering multiple plans. Each participant pays the fixed monthly premiums for coverage and any copayments required, depending on the type of plan selected. Dependents of Veterans, except those eligible under CHAMPVA, are not authorized to participate in VADIP. Those individuals may be eligible for separate dental insurance coverage offered by these carriers.

Backlog of Disability Claims Reduced by 34 Percent since March

. 93 Percent of Claims Over One Year Old Completed

WASHINGTON (Nov. 7, 2013) –The Department of Veterans Affairs has made significant progress in reducing the backlog of disability compensation claims – from 611,000 to 400,835 or 34 percent -- since peaking in March. One Million Now Benefit from Post-9/11 GI Bill.

Over $30 Billion in Benefits for Veterans, Service members, Families

WASHINGTON (Nov. 8, 2013) – The Department of Veterans Affairs announced today that 1 million Veterans, Ser-vicemembers, and family members have benefited from the Post-9/11 GI Bill since the program's inception in August 2009.

Flag Display Cases available at the Vernon County Veterans Service Office

Constructed of rich mahogany colored hardwood and inserted with thick glass each dis-play case holds up to a 5' x 9.6' cotton flag. A die-cast, gold-plated United States Armed Forces medallion is centered on a bevel-cut double-mat. Easy open back panel and felt lined, scratch resistant bottom. Available with or without a 5' x 9.6' embroidered cotton Interment flag which is identical to those manufactured for the Veterans Administration. Manufactured in the U.S.A. Outside dimensions: 26" x 13" x 3.5". The cost is $30.00 for the regular ones and $40.00 for Military specific ones.

VETERANS EMPLOYMENT INITIATIVE

The Middleton VA is conducting a series of Workshops on Job Search Skills for Veterans and their family members with a focus on Federal Employment. Contact Jeanne Louther at (608) 256-1901 ext. 12976 or at jeanne.louther@va.gov.

Veteran's Memorial Update and Information

The Coon Creek Area Veterans Memorial Committee is always looking for serviceperson's who may be eli-gible for inclusion on the Veterans Memorial. If you think you are eligible, or if you know of anyone who should be eligible, please fill out or have the person fill out the information below and return it to one of the members of the Coon Creek Area Veterans Memorial Committee. John Thurk, Don Kammel, Melanie Role, Rod Ofte, or Charles Nelson.

Pension vs. Compensation. Pension is Income Driven. It is available to war time veterans, who are not able to work, with low incomes, and that are under the age of sixty-five. Compensation is for anybody with a service connected disability. WISCONSIN Resource Links